Engineering Staff College, Bangladesh (ESCB) campus is situated at the western bank of the Meghna-Gomti river at the western approach of Meghna-Gomti Bridge, at Char Bausia, Gazaria, Munshigonj. ESCB area is about 23.5 acres of park land with green surroundings over viewing the river and rural landscape.
Existing Physical Infrastructure at ESCB Main Campus
Administrative Building: For rector and his staffs.
Academic Building: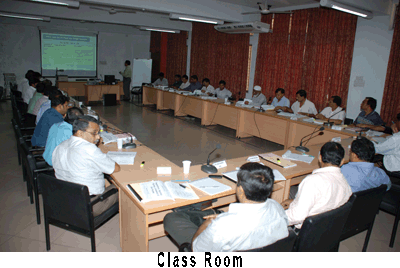 Class Rooms: At present, there are two air-conditioned classrooms with a capacity of thirty participants in each at the 2nd floor of the building. Classrooms are equipped with modern audio visual system that includes digital sound public address system, computer for presentation, multimedia projector, overhead projector, projection screen. Provisions for classrooms of 20 participants are also available in ground and 1st floor. Another 2 class room for 30 participants each in the 3rd floor and 2 class rooms for 20 participants each in the 1st floor will be ready by August'2011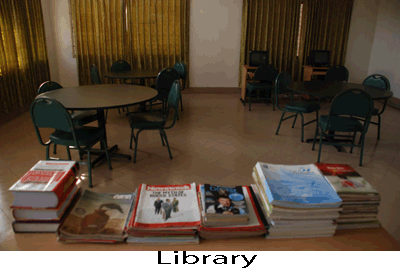 Library: A library at the 1st floor of the building. Professional Engineering, procurement, project management books, manuals, newspapers, journals are available there. There is another Library with international facility adjacent to dinning area.
Canteen: A canteen on the Ground floor, as refreshment to the participants during the training period.
Office Rooms: For team leader, deputy team leader, dean, national trainers, faculty trainers at the 1st floor of academic building. Office space for support staffs is also available there.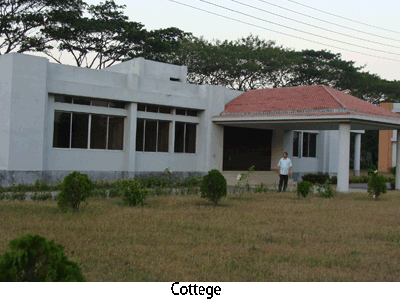 Dormitory for Male Trainees: 20 rooms with twine sharing bed for 40 male participants where modern living facilities are available. Another two floors of 20 rooms are constructed in the 2nd floor and 3rd floor of existing building where accommodation will be available for another 40 participants by Aug'2011.
Semi Permanent Dormitory for Both Male and Female Trainees: 6 double seated bedrooms and 12 single seated bedrooms for male along with 3 double bedrooms for female participants.
Accommodation for Resource Persons and ESCB Executives: There are two cottages. One with 3 air-conditioned rooms for male and ESCB executives and the other with 2 air-conditioned rooms for female resource persons. A separate building is being constructed as trainers suite of 10 double bed rooms.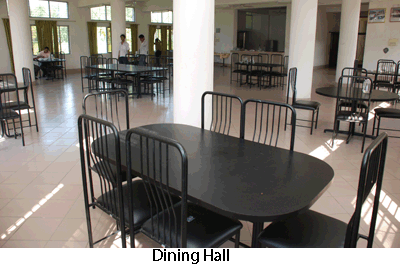 Dinning Hall: Dinning facilities for 60 persons at a time are available. Meals are arranged by ESCB on out sourcing basis. Quality and service are closely monitored. Meals include breakfast, snacks, lunch, evening tea and dinner.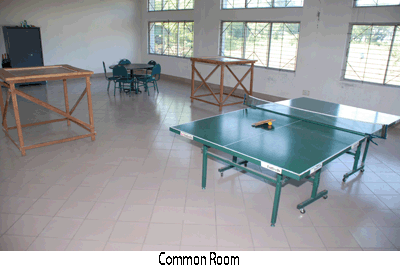 Recreation Facilities: Common room attached to the dinning hall provides TV with dish connections, indoor games like table tennis, carom, chess, cards etc. Outdoor games facilities like Basket ball, badminton, volleyball, football etc are available. Guided tours are arranged in every course to the historical places, important establishments and river cruise.
Medical Centre: A medical centre with a full time resident medical assistant is available with first aid facilities for general medical support.
Power Supply: A 300 KVA sub-station in the main campus supports power disruption round the clock. A stand by 100 KVA diesel generator provides backup power supply.
Fresh Drinking Water Supply: Drinking water is supplied from deep tube; potable quality was tested by BUET. ESCB has its own pump house and water distribution line for supplying safe and fresh drinking water.
Mosque: A mosque with a Imam is located beside the academic block.
Seminar and Video Conference Building: In the 1st phase of the construction work, partially it has been completed. In the 2nd phase of the construction work, which is underway of approval, the rest of the works is expecting to be completed.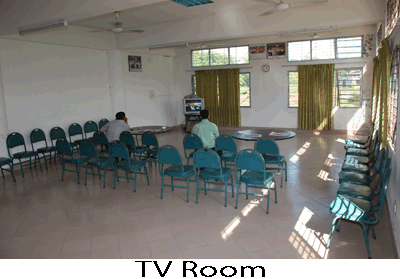 Staff Quarters: 1000 sft (one storied -1 unit) and 600 sft (two storied - 4 unit).
Internet Service: At present GPRS Internet Service available at the common room and at office. BTCL-MSAN ONU being established by Bangladesh Telecom Company Limited (BTCL) which will provide Broad Band Internet Connection to the Campus.

Second Phase of Development of ESCB: With allocation from GOB under ADP, construction of several structures including extension of academic building, dormitory, new dormitory for female participants, suits for trainers and resource persons is in progress. Aimed completion of construction will provide potential for adequate facilities for multi disciplined training programs for participants, especially sustainable training on PPR and establishing a study center of CIPS and collaboration with other international institutions.