Reception Ceremony at main campus
The newly joined Rector, Prof Dr M Monowar Hossain was greeted with flowers by the officers and employees of the main campus (Gazaria, Munshiganj) of ESCB on 23 January 2021. Prof Dr Engr M Monowar Hossain has joined Engineering Staff College, Bangladesh (ESCB), a corporate body of Institution of Engineers, Bangladesh (IEB), as Rector on January 19, 2021. Prior to his present position, he was the Executive Director, Institute of Water Modelling (IWM)-a Trust Organization under the Ministry of Water Resources, GOB (From March 30, 2011 to January 08, 2020). Earlier, he served as Professor and researcher at Bangladesh University of Engineering & Technology (BUET), Dhaka (From 30 April 1976 to 29 March 2011). He held a number of significant positions while working at BUET, such as Head of the Department, Dean Faculty of Civil Engineering, Director of Students' Welfare, Member of Syndicate, Member of Board of Governors, Director of Physical Education, various Committee members, hall administration etc.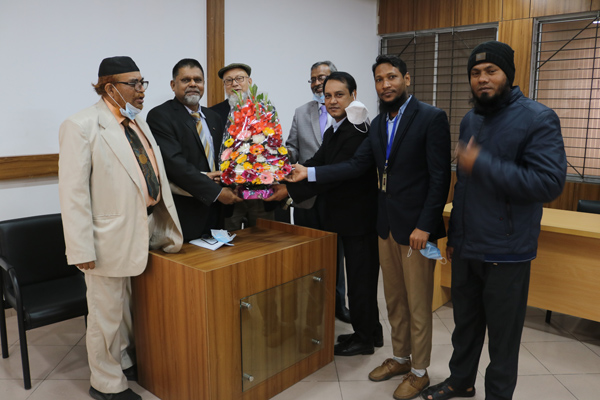 Course Inauguration at main campus
The Rector of ESCB, Rector Prof. Dr. Monowar Hossain inaugurated the "3 Week Long Basic Procurement Training" (Batch-39) under the Digitizing Implementation Monitoring and Public Procurement Project (DIMAPPP) as well as "5 Day Long e-GP Training Course" under the College Education Development Project (CEDP) as the Chief Guest on 23 January 2021 at the main campus of ESCB (Gazaria, Munshiganj). Engr. Md. Nuruzzaman, Vice President of IEB (Human Resources Development), Dean ARM Anwar Hossain and the Faculty Members of ESCB were also present during the event.